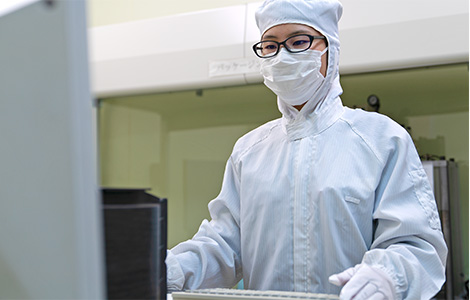 Pursuing 100% customer satisfaction with
our defect-free policy.
Our customers trust and rely on Fuji Bakelite's quality. To continue to maintain that trust, we have adopted a "Defect-free policy" to ensure "100% customer satisfaction." Our manufacturing lines strive for "zero defects" by recording each job to confirm the prescribed procedure is followed. Our quality control is based on "Own-process Completion," which means quality is built into each process to ensure no defects proceed onto the next stage. Introducing state-of-the-art equipment in inspection and evaluation, we have also set up a full-scale inspection system to prevent outflow of defects both automatically and manually.
Company-wide quality control system including overseas plants has been structured for more than 30 years as over 40 small groups have been active for continuous improvements.
Inspection with Actual Machines
We use in-house inspection jigs to check switch operation and the color tone when lit up, replicating actual usage conditions.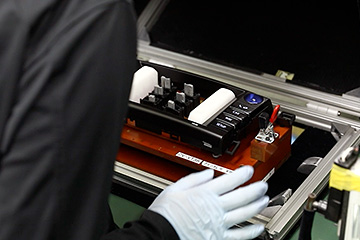 Cosmetic Inspection
For external checks that cannot be assessed using a machine, we make sure skilled or experienced employees conduct visual checks.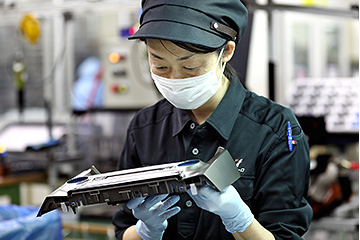 CMM or Three Dimensional Measuring Instruments
Three dimensional measuring instruments are integrated to conduct highly precise measurements automatically. For high volume production, we manage quality with precise dimensional checks.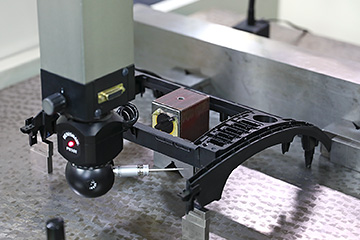 Automatic Image Inspection System
We use an image recognition system to check if complicated and look-alike parts are assembled properly or if any small parts are missing, because this may be easy to overlook even through trained eyes.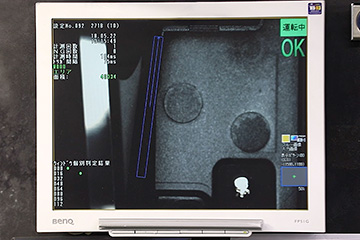 Measuring equipment with an imaging inspection function
We conduct highly precise inspections swiftly, covering both a cosmetic inspection and a dimensional check.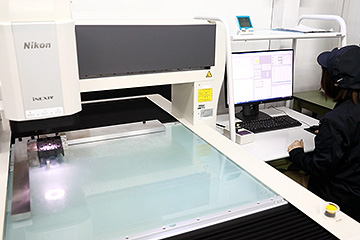 Jig with sensors
Jigs with sensors are used to find defects that occur during assembly. This method maintains efficiency while preventing the outflow of defects.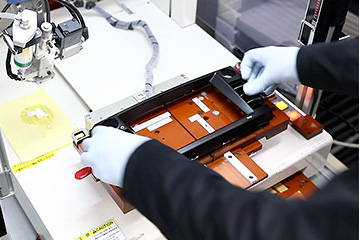 ISO9001 and ISO14001
Fuji Bakelite acquired the international standard ISO 9001 certification in June 1998. We are also engaged in environmental activities such as energy-savings, resource conservation and reducing waste disposal in order to alleviate our environmental footprint, and we acquired the international standard for Environment Management System ISO 14001 in July 2004. We finished updating both certifications again in 2018.
Fuji Bakelite Group - Quality Policy
We strive to establish a quality assurance system where all teams function most effectively so that all products of our company satisfy the customer's quality requirements, comply with laws and regulations and foster a safety culture.
How to establish, improve and comply with the quality assurance system are shown as follows:
1: We earn the trust of customers by way of making a concerted effort to maintain, establish and develop our business.
2: We strive to establish superior, reliable and advanced production control and quality control systems in order to deliver customer satisfaction.
3: We create something new with a spirit of reconciliation between technology and the environment.
4: Starting with each employee or a small group of people, we humbly learn, figure out and analyze issues for the sake of continuous improvements.
5: Every employee understands and adhere to the quality manual describing the group's quality assurance system.
Yoshiaki Fujii
President
Fuji Bakelite Co., Ltd.
Date: December 2, 2019