Integrated production system offers high quality,
excellent designs and flexible delivery and costs.
One of Fuji Bakelite's biggest strengths is our integrated production system.
The system starts with a specification review and a technical proposal (planning) for the customer.
It also includes mold design, mold manufacturing, injection molding, decorating, assembly, processing and quality inspection.
This system provides high quality manufacturing and decoration as well as flexibility for delivery and costs.
Planning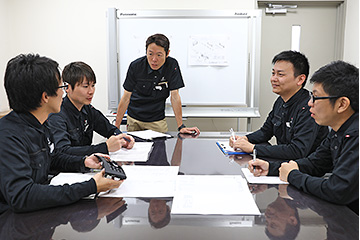 Discussions with customer
from various perspectives.
After receiving inquiry information from the customer, we use the reference drawings (for quotation) to conduct an internal review of the specification from various perspectives, including materials, strength, configuration, delivery and cost. Then, we provide a technical proposal for the customer.
Each department offers ideas to ensure cost performance and a configuration that provides the best quality. We focus on "Planning" that includes even more added value for the customer.
Mold design and manufacturing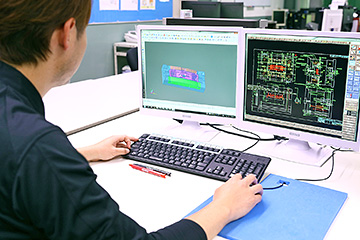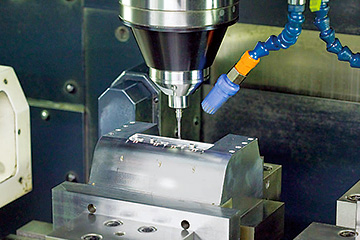 Process that significantly impacts quality.
Always staying focused on the finished products…
Plastic product quality is determined by the quality of the mold. We incorporate our expertise into designing while taking in account the final processing and assembly and always staying focused on the finished products.
We use internal factory manufacturing resources and external specialty manufacturers to make the mold. We also use the latest CAD/CAM system and high performance machines to improve our internal manufacturing.
Injection Molding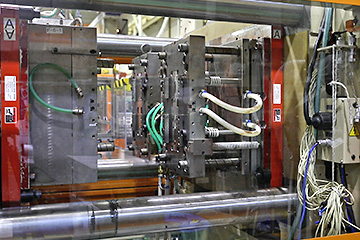 Adopting new technologies and methods
and implementing automated manufacturing.
This injection molding is the foundation of the manufacturing process that produces precise plastic molded parts. We adopt new technologies and methods and implement automation for cutting-edge manufacturing.
By applying various molding technologies such as film insert, double-shot and weldless molding and by using cutting-edge molding machines, we can produce precise molded parts for both strong and intricate shape requirements.
Decorating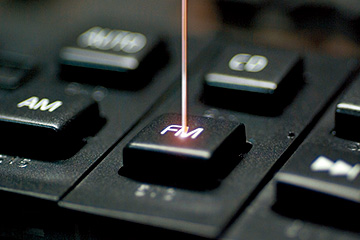 Focusing on aesthetics and
meeting technical and highly cosmetic part requirements.
This process features decorating technology focused on aesthetics and supports high-quality design quality requirements for automotive parts. The process is a major point of distinction from other companies, and we are constantly pushing the envelope with new decorating technology.
Our strengths include coating technology such as piano black, finish high precision laser etching technology and printing technology for clear text and marking.
Assembly & Processing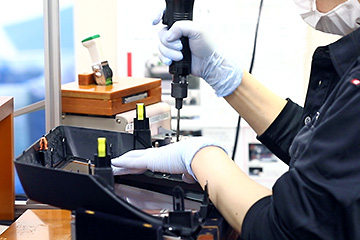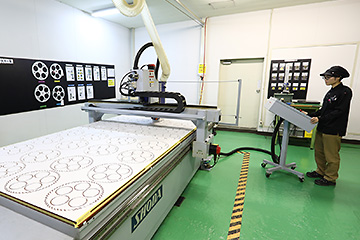 Putting the finishing touches to products
with intricate features by hand.
Automotive components such as car audio and navigation systems are made of numerous parts with intricate shapes. To complete the final product, parts are fitted together by hand.
We have processing equipment that automatically grinds and machines polishing carriers as well as a special finishing machine that removes burrs from thermoset parts. We use unique, in-house equipment for factory automation to ensure complete streamlining.
Quality Inspection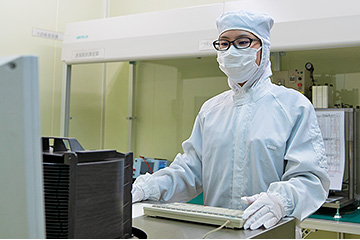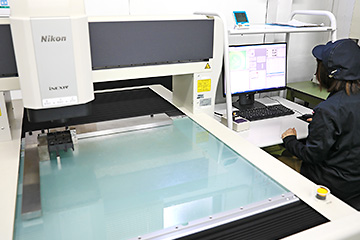 Combining cutting-edge devices
with visual and tactile checks.
Quality assurance is one of the most challenging tasks as a manufacturer. Our system not only features cutting-edge machines but visual and other sensory checks to ensure that a complete quality assurance system is in place for every process. The latest inspection equipment and measuring instruments are used to measure color and gloss as well. Furthermore, we also consider the check process very important by way of performing visual, sound and tactile inspections on switch parts, etc.